Show off your wall mount digital signage screens. Build a wall of entertainment for your sales office or sales centre, tradeshows or registration booths. Use these screens as a powerful advertising and promotional tool. Our signage touch players can be used for advertising videos in shopping centres, retail for wayfinding, community centres or within the medical industry.
Display images & video with audio
Showcase your digital message to the public-using sight & sound. Your screen acts like a silent sales person and marketing tool all in one. You can keep your message or marketing program current with interactive screensavers that can be changed instantly.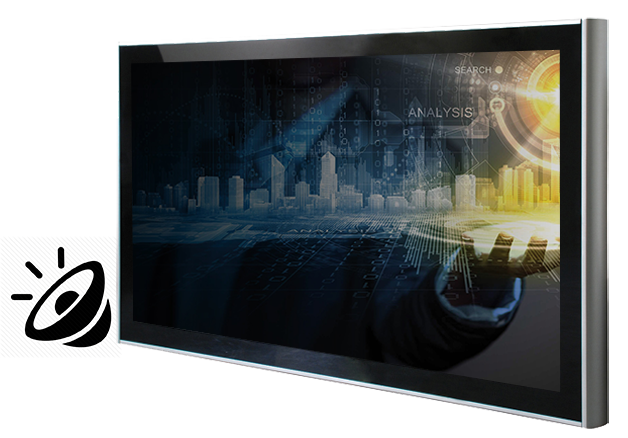 Display the right messages
Technologies and devices are always evolving, use these screens to target diverse audiences as they change and grow. The versatility of this technology shines across all industries, whether it is acquired for business, retail, or educational purposes. Interactive screens are an effective investment to efficiently advertise product oriented organizations, as well as service-based companies.
No Special Training or courses
Quick and trouble-free set-up. No device programming required with the plug and play screen, as its already loaded with Windows 8. If you have any experience with a PC. You'll have no trouble finding yourself around a touch screen kiosk or table.
Touch Player, All in one computer
21.5"
SKU#:21.5WMTS-B (black)
SKU#:21.5WMTS-W (white)
SKU#:21.5WMTC-B (black)
27"
SKU#:27WMTS-B (black)
SKU#:27WMTS-W (white)
SKU#:27WMTC-B (black)
32"
SKU#:32WMTS-B (black)
SKU#:32WMTS-W (white)
SKU#:32WMTSC-B (black)
42"
SKU#:42WMTS-B (black)
SKU#:42WMTS-W (white)
SKU#:42WMTSC-B (black)
47"
SKU#:47WMTS-B (black)
SKU#:47WMTS-W (white)
SKU#:47WMTSC-B (black)
55"
SKU#:55WMTS-B (black)
SKU#:55WMTS-W (white)
SKU#:55WMTSC-B (black)
65"
SKU#:65WMTS-B (black)
SKU#:65WMTS-W (white)
SKU#:65WMTSC-B (black)
Specifications
LCD Panel Brand: LG® / Panasonic
®Resolution: 1080 HD 4mm Tempered Glass as protector layerVGA, AV, HDMI Port are available with Full HD 1080P Video Output
PRODUCT DESCRIPTION
Display
• Type of Display: LCD
• Display Ratio 16:09
• Resolution: 1920 x 1080P
• Brightness: 500 cd/m2
• Contrast Ratio 1300:01:00 color 1.06B(10bit)
• Response Time 5(GtoG), 8(MPRT) ms
• Pixel Pitch 0.210mm (H) x 0.630mm (W)
• Viewing Angle 178°(HV)
Processor
• Standard: Intel® Celeron® Dual Core @ 1.8GHz with 2G RAM, 320GB HD
and 512MB Intel® graphics
• Up Grade A: Intel® i7(3.4GHz)/i5(2.9GHz)/i3(2.3GHz) with 4G RAM, 500GB HD
and 512MB Intel® graphics
• Up Grade B: Intel® i7(3.4GHz)/i5(2.9GHz)/i3(2.3GHz) with 8G RAM, 1TB HD
and 1GB Intel® graphics
• Android: MSD6369/901 with 1G RAM and 4G Storage with Integrated graphics
• WiFi 150Mbps 802.11 Wifi Integrated
• Audio: Realtek® ALC662 6 with two 5 watt speakers
• OS: Windows® 7/8.1(Pro)/10/Linux®/Android® .
Touch Screen
• Detection method infrared touch
• Position accuracy approximately 3 mm absolute, 1 mm relative.
• Alignment software drivers provide a calibration facility
• Sensitivity can be programmed for different thickness of glass and even be
used with gloved hands.
• Standard configuration functions with non-metalized single
construction glass 16mm thick.
• Double glazing option up to 25mm available
• Speed of response depends upon material thickness. Typically 50 to 100ms
• Software compatibility drivers are available for Windows® .
• Temperature range better than -10 to +70°C
• Humidity controller 0% to 95%. Unaffected by condensation
• Accessory wall-mount, mounting screw, power cable, key, warranty card.
• Warranty: one year warranty with extended warranty available
See something you like?
Let's Work Together!
Hours
Mon to Fri 9:00am to 5:00pm EST
Headquarters:
165 Saunders Road
Barrie, Ontario L4N 9A3 Canada